Combine a dancer, a pilot and a one hundred year-old historic conservatory building and the wedding result is a little bit like magic. That was the feeling in the air on Jordan and Dan's August wedding day. Bringing together family and friends from across the country for a weekend-long celebration that culminated in a ceremony and a reception filled with music, dancing and touching toasts. And I can't even begin to describe how much I loved Jordan's blush and tulle dress!
This was the most FUN wedding to work on! From nearly the beginning of Heirloom's journey Dan and Jordan put their trust in me, and watching them walk down the aisle felt a little bit like sending my babies out of the nest. It was important to Dan and Jordan that their guest were well cared for throughout the day, and as a nod to Jordan's performance background the flow of the day feel like a well choreographed dance with one element flowing right into the next. Creating elements of surprise for their guests was something we planned carefully throughout the process, ensuring that magical feeling carried all the way through the evening. Don't miss the custom wishing-well below!
The Garfield Park Conservatory provided a gorgeous backdrop, and Dan and Jordan wed on the patio under a chuppah hand sew by family that is now a cherished heirloom. Nancy Marie Photography captured the day beautifully.
Jordan opened her bridal suite to friends and family the morning of her wedding for a casual breakfast and mimosa celebration while everyone got ready. It was such a fun and lively group and a great way to extend the time spent with friends on her wedding day.
Bridal suite selfies for the win!
This first look may go down as one of the most iconic Chicago first looks in history. The Wrigley Building was the perfect setting in every way. Even more fun, was that this was a mutual first look! Jordan had never seen Dan's custom tux and bowtie! That's trust, ladies. He knocked it out of the park. Good job, Dan!
A few more stops at iconic locations around the city and this pair was off the to Conservatory for family portraits and a ketubah ceremony in the garden. Jordan and Dan had a close friend officiate the ceremony, and the words he spoke over them on the wedding day were incredibly moving and made every single guest feel a part of their love story and the life they are building together.
When Jordan and Dan were selecting their wedding venue, they walked into the glass and steel dome of the Conservatory and knew instantly it was where they would be married. This building has a presence that you feel as soon as you walk through the doors, and has stood in this location for more than one hundred years. There's something special about being able to return to you wedding location with family and children for decades to come and relive a little bit of the magic of this day.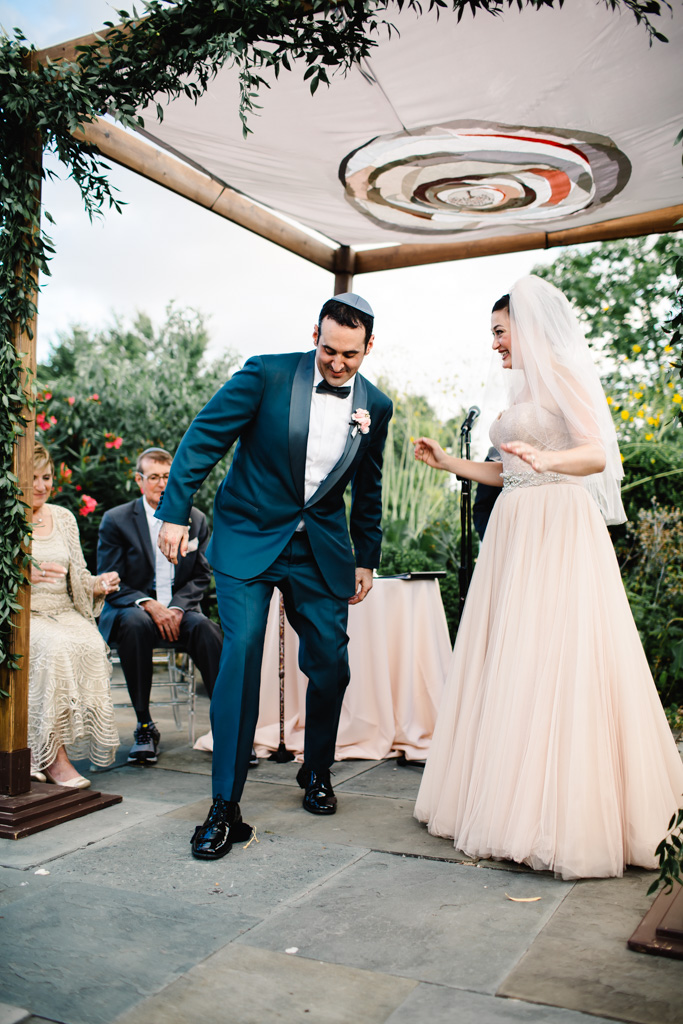 A custom wishing well featured the couple's hashtag and invited guests to toss their own wish in for the couple's life together. Mini potted succulents served as escort cards and favors for the guests to take home.
The classic ceremony music by Artistrings lead into a live pop-music string quartet during the cocktail hour. One of my favorite elements of this wedding was when the doors to the reception hall opened and Dan and Jordan lead their guests straight onto the dance floor to their favorite song. A few high energy dances had everyone in a party mood. Followed by dinner, toasts, family dances and right back to the party!
The magic of this day was undeniable and I am honored to have helped bring it to life for these very special clients and friends. See below for the incredible team of vendors that made this day possible.